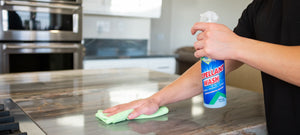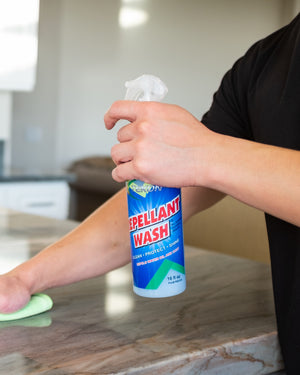 does more than clean
This cleaning spray seals and protects your home surfaces! The repellent coating makes it exceptionally easy to keep surfaces sparkling clean!
Water beads up and can be wiped away. Stone counters resist oil, coffee, and wine stains. Grease and food spills require less effort to clean.
Versatile
With just this one cleaning spray, you can clean and protect:
- shower glass, windows, and mirrors
- stone and tile surfaces
- stainless steel appliances, chrome fixtures, and other metal surfaces
- cabinets, wooden furniture, plastic
- smartphones, TVs, and laptops
*NOT FOR USE on floors or tubs because of the slick coating!**
Non-Toxic
Unscented, eco-friendly, biodegradable water-based formula.
Free from harsh chemicals such as bleach, ammonia, alcohol, and acetone.
Completely safe for use around kids, pets, and on all food-prep surfaces.