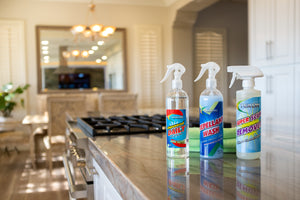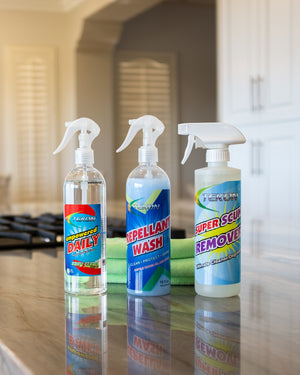 'Essentials' Clean Home Kit
Includes Our 3 cleaning sprays & 3 towels
REVOLUTIONARY TEKON Cleaners
Discover the unique differences between our versatile set of cleaning sprays. From quick spills to heavy duty deep cleaning, TEKON has you covered.
daily-use cleaner
EMPOWERED DAILY
This amazing all-surface cleaner easily lifts dirt and grime, and cuts through grease. It works on a wide variety of surfaces and is both economical and effective.
This no-frills daily household cleaner is unscented, non-toxic, and safe for use around children, pets, and on all food prep surfaces.
clean, protect, & shine
Repellant Wash
Our #1 Best Seller. We combined the amazing cleaning abilities of Empowered Daily with our proprietary TEKON sealing and polishing compounds. With every spray, it not only cleans, but seals and protects nearly any hard surface in your home.
Cleaned surfaces repel water, dust, oil, and fingerprints, making routine cleanup quicker and easier than ever! Marks and stains that appear can simply be wiped away. Every use refreshes the repellant coating.
EXTRA PROTECTION
Empowered Weekly
This cleaner has the highest concentration of TEKON's proprietary sealing and polishing compounds. It leaves cleaned surfaces incredibly slick and well protected from marks and stains.
Great for cleaning nearly any hard surface in your home, but due to the high concentration of sealant, is not recommended on glass or mirrors due to hazing, which will require slightly more effort to achieve a streak free shine.
THE ULTIMATE DEGREASER
SUPER SCUM REMOVER
This is our revolutionary spray for cleaning up greasy cooktops, ovens, barbecues, and range hoods. Super Scum Remover cuts through grease and fat, making quick work of difficult cleaning jobs. Simply spray and let soak for several minutes before wiping.
This is a TEKON staff favorite.
SAVE 20% WHEN YOU
BUILD YOUR OWN KIT
Simply add 5 (or more) products - in any configuration - and enter the discount code "BUNDLEUP" at checkout for instant savings!
BUILD YOUR BUNDLE
innovation x integrity
about Tekon
TEKON® specializes in eco-friendly surface cleaners, protective coatings, and polishes. Our products are 100% made in the USA in our state-of-the-art facility in Southern California.
The Tekon®
Advantage
TEKON® transforms most man made surfaces that naturally attract dust and dirt to become hydrophobic, oleophobic and anti-static. This reduces cleanup time and makes it effortlessly easy to keep your home sparkling clean.
STRONG & EFFECTIVE, YET
GENTLE ON THE ENVIRONMENT
TEKON products are eco-friendly, biodegradable, and contain no harsh chemicals or pollutants.
Guaranteed to not contaminate water sources or harm the environment from regular use.
Keep your home sparkling clean without worry!
★★★★★

I rebuilt an old house 3 years ago and had coated shower doors installed Repellant Wash the two
bathrooms. The people who sold me the glass doors said never to squeegee them,
only to use the "Repellant Wash" on them. I have done so now since they were
installed and my doors still look brand new!
I love your product and recommend it to everyone for all of the other uses, too
Thank you!






★★★★★

Tekon is the best. I absolutely love, love, love your products. Our shower door was
treated new with Tekon and it has helped us to keep it looking new for many years
now. Tekon products are NOT caustic and do not have an irritating smell to deal
with. I love your products and hope you never quit making them. I recommend
them to anyone who is willing to listen.
★★★★★

I've used Tekon Repellant Wash on my new shower wall for two years now and love it! No streaks and
definitely no water spots. It's as clear as the day we had it installed.
★★★★★

Since taking delivery of my Tesla Model S in June 2013, I have settled on Tekon's Repellant Wash as the
only product for keeping my car's glass clean and water-spot free. I was already familiar with the
product because my contractor recommended it to me a few years ago when we remodeled our
bathroom. Well, when I got my Model S I realized that keeping the glass clean was going to be a
challenge because I had ordered the sunroof, which means that the entire cabin of the car from hood to
trunk lid is almost all glass. Anytime I use the wiper wash, it leaves residual spray on the sunroof. I tried
several off-the-shelf products from the auto parts store, but none of them worked for me. They either
left streaks or didn't guard against water spots. But when I used the Repellant Wash, my problems were
solved: no streaks and most importantly, no water spots! I wouldn't think of using anything else
★★★★★

Helen,
We love Repellant Wash for so many reasons. We are always working with glass in my wedding and
event planning business whether it be frames, vases, table tops or just the shower. For the best results
we always use Tekon. Thank you for the products!
Thanks,